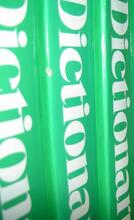 Although the United States is famously a nation of immigrants, Americans often struggle with the pronunciation of foreign words and names. Mispronunciation of even common foreign words is ubiquitous (Eye-rack and Eye-ran spring to mind). Foreign names in legal matters present a particular challenge for legal professionals. The purpose of the Pronouncing Dictionary of United States Supreme Court cases is to help conscientious lawyers, judges, teachers, students, and journalists correctly pronounce often-perplexing case names. The Dictionary was compiled by YLS students Samuel Adriance, Peter Bozzo, Megan Browder, Usha Chilukuri, Megan Corrarino, Conchita Cruz, Allison Davido, Brigid Davis, Gilad Edelman Kate Hadley, Jaclyn Harris, Daniel Jang, Allana Kembabazi, Montae Langston, Whitney Leonard, Karlanna Lewis, Virginia McCalmont, Sally Pei, Zachary Shapiro, Andrew Shipley, Seguin Strohmeier, and Yale University Linguistics Department students Leandro Bolaños, Shira Calamaro, Ryan Kasak, Diallo Spears, Jason Zentz and Andy Zhang, working with Florence Rogatz Visiting Lecturer in Law Eugene Fidell. Special thanks go to YLS student Adam Adler who designed the app for the Dictionary (available for Android and soon to be released for iOS) and to Jason Eiseman of the YLS Library who made the audio recordings of case names possible.
    The full article PDF is available for download from the following link (15 GREEN BAG 2D 433)
     For an explanation of the phonetic symbols and transcription practice used, please see our pronunciation notes (PDF).
     Please send corrections and suggestions for additional listings to Eugene R. Fidell, Yale Law School, 127 Wall St., New Haven, CT 06511, eugene.fidell@yale.edu, or Ross E. Davies, The Green Bag, 6600 Barnaby St., N.W., Washington, DC 20015, rdavies@greenbag.org.