Lincoln's Code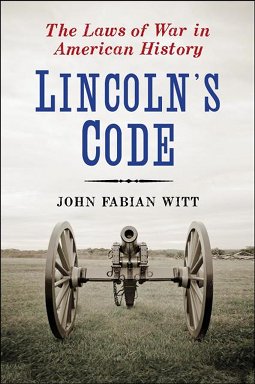 Bancroft Prize
Finalist for the Pulitzer Prize in History
New York Times Notable Book for 2012
American Bar Association Silver Gavel Award
New York Times Book Review Editor's Choice
J. Willard Hurst Award for the Best Work in Sociolegal Legal History
Kirkus Reviews Best Nonfiction for 2012
Reviews
"By showing how past presidents have struggled with the legal issues of war-making, Mr. Witt warns against those who simplistically denounced George W. Bush for supposedly violating 'a long American tradition of respect for and participation in the international laws of war.' The reality was more complex and interesting."
-- Max Boot, Wall Street Journal
"By attempting to make sense of the history of laws of war in American conflicts, Witt encourages politicians and scholars alike to deliberate on the true nature of 'just' wars."

-- Harvard Law Review
"[A] sweeping history of American engagement with the idea that the brutality of war should be constrained by humanitarian rules."
-- Jennifer Schuessler, The New York Times
"[A] magnificent new book . . . thrilling[] . . . . This monumental book, resting on colossal archival research and packed with memorable stories and arguments, is a major contribution."

-- Gary J. Bass, New York Times Book Review
"Truly remarkable, composed with all the precision and insight you expect from a law professor, marked by all the elegance and sparkling readability you don't."
— Kirkus Reviews
"This significant work by Witt, a professor at Yale Law School, adds to the history of the Civil War, and of America's major contribution, starting with the Revolution, to the idea that war's conduct can be regulated by law."
— Publishers Weekly
"[Lincoln's Code] will please Civil War buffs, legal and military historians, and international lawyers alike. Witt's research on letters, drafts, and other documents written by Lieber and the other major figures is impressive, and he presents it lucidly, fairly, and comprehensively, enabling the reader to draw his own conclusions."
— Eric Posner, Slate

"[W]ell-written and fascinating . . . . The value of Witt's account is that it shows how the answer to [where we draw lines] has changed over the centuries—and how, whether in the Civil War or the War on Terror, our political leaders have struggled to reconcile the sometimes competing demands of humanitarianism and justice."
— Max Boot, Commentary Magazine

"Exhaustive, authoritative, written with drama and flair, Lincoln's Code is a remarkable work about remarkable men. Witt examines the attitudes and actions that characterized military conduct prior to the Civil War, and then traces the impact of the Lieber Code on world affairs in the century and more that followed, all demonstrating what a genuinely unique and revolutionary act it was for Lincoln, his war leaders, and Lieber, to rise above their temporal conflict by attempting to make some sense out of chaos, and some humanity from inhumanity."
— William C. Davis, History Book of the Month Club

"A gripping narrative of the struggle to maintain the aspiration to honor, decency and common humanity amidst the brutal imperatives of war—from our war for independence, through the Civil War to the suppression of the insurrection in the Philippines. At the center John Witt places the first code for the conduct of war, promulgated by Lincoln during the darkest days of the Civil War: harsh, relentless, realistic, yet placing firm limits forbidding torture, the abuse of prisoners, treachery and purposeful harm to civilians. This book is an important addition to the ever-growing monument to our greatest and most complex national leader."
—Charles Fried, author, with Gregory Fried, of Because It Is Wrong: Torture, Privacy and Presidential Power in the Age of Terror

"Lincoln's Code is a rich, subtle, and honest book that uncovers the deep impact of the laws of war in American history. It is chock full of truly novel insights. I learned a ton from it and will continue to learn a ton on rereading. It is a great book, one that will last forever."
—Jack Goldsmith, Harvard University, author of Power and Constraint: The Accountable Presidency After 9/11

"As bitter disputes still fester about how far Americans should submit to international legal rules, John Fabian Witt offers a dispassionate historical perspective and an insightful truth. From the beginning, Witt shows, America has proclaimed moral rules and deployed military force, no more paradoxically in combination than during our Civil War, in which Francis Lieber first codified the law of war for the world. Witt's book is deeply researched and beautifully written: an indispensable masterpiece for anyone who cares about how America's past bears on our present and future."
—Samuel Moyn, Columbia University, author of The Last Utopia: Human Rights in History

"In this splendid and readable narrative, John Fabian Witt shows how Americans from the Founding Fathers to Abraham Lincoln argued, and sometimes agonized, over the elusive and indistinct boundary between the legitimate application of military force on behalf of the nation and crimes against humanity. Here is an original and important synthesis that helps illuminate our nation's moral and political underpinnings, and establishes a context for modern considerations of the laws of war."
—Craig L. Symonds, author of Lincoln and His Admirals and winner of the Lincoln Prize

"If there was ever a time for this book, it is now. As the war on terror continues unabated and controversy continues over the use of military commissions, detention, interrogation, due process and civil liberties, this extraordinary and well written account about the laws of war in America is a primer and road map for our citizens and those who are, or should be, trying to comprehend and prepare the legal and military processes for all present and future."
—Frank J. Williams, Chief Justice (ret.), Supreme Court of R.I. and founding Chair, The Lincoln Forum