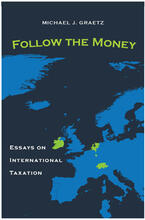 Publicity about tax avoidance techniques of multinational corporations and wealthy individuals has moved discussion of international income taxation from the backrooms of law and accounting firms to the front pages of news organizations around the world. In the words of a top Australian tax official, international tax law has now become a topic of barbeque conversations. Public anger has, in turn, brought previously arcane issues of international taxation onto the agenda of heads of government around the world.
Despite all the attention, however, issues of international income taxation are often not well understood. In this collection of essays, written over the past two decades, renowned tax expert Michael J. Graetz reveals how current international tax policy came into place nearly a century ago, critiques the inadequate principles still being used to make international tax policy, identifies and dissects the most prevalent tax avoidance techniques, and offers important suggestions for reform. This book is indispensable for anyone interested in international income taxation.
Advance Praise for Follow the Money
This collection of Michael Graetz's writings reminds me of the feat achieved by Mark Twain in his Innocents Abroad, or a New Pilgrim's Progress. Of greatest value, perhaps, is Michael's foresight in highlighting the most treacherous parts of the terrain we face. Rather than provide strict answers, Michael charts the tradeoffs and practices that are evolving on the most important issues. Graetz's peripatetic journeys across disciplines and topics provides the best possible antidote to the parochialism we are susceptible to and will surely provide the foundation for whatever comes next.  
- From the Forward by Mihir Desai, Mizuho Financial Group Professor of Finance, Harvard Business School
This book collects Michael Graetz's most profound and influential works in international tax. Graetz's work is the opposite of doctrinaire; he draws on history, politics, economics and legal and political theory first to identify the major problems and misconceptions in the area, and then to provide the tools to make sense of international tax. Anyone who hopes to learn about–much less teach or understand–international tax must read the works of Michael Graetz, and this new volume makes that essential reading accessible.
- Ruth Mason, Hunton & Williams Professor of Law, University of Virginia School of Law
In this superb collection of nine essays — written over almost two decades  — Michael Graetz offers his readers a vivid account of the fundamental principles underlying thoughtful analysis of international taxation. This collection is must-reading: for tax policymakers driving the U.S. Government's response to shifts in the global economy, for academics seeking to evaluate potential responses or designing courses in international taxation, for tax executives, lawyers and accountants trying to guide corporations through the resulting thicket, and for concerned citizens wanting to learn more about this critical topic. Rather than reading every book on international taxation, anyone interested in navigating this important topic should read this collection instead. The reader will indeed be able to "follow the money."
- Rick D'Avino, Former Vice President and Senior Tax Counsel, General Electric Company and GE Capital
This collection of influential articles by one of the most respected tax lawyers in the nation addresses today's most important and difficult international tax policy issues. Michael Graetz masterfully critiques guiding principles, resulting in insights that have changed how we approach international tax policy and have guided the conversation on reform. These essays are valuable to anyone interested in tax policy in the 21st century and demonstrate clearly why we should "follow the money" and follow Michael Graetz.
- Rosanne Altshuler, Chair, Department of Economics Rutgers, The State University of New Jersey
Download the book
EPUB (for iPad, Barnes & Noble Nook, and other non-Kindle e-readers)
AZW3 (for newer Kindles)
MOBI (for older Kindles)